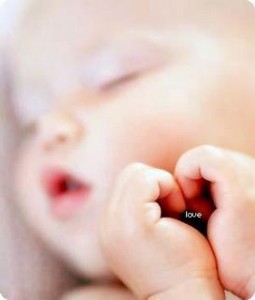 To anyone that sits at this table on Mother's Day,
I am usually a very happy person and attempt to look at the brighter side of things.  I want to offer a bit of my feelings in hopes that it may bring light to another.   Today is a wonderful day for many Mother's out there as they received flowers, gifts and a visit from their children.  This is a great time to share your memories and laugh about the hard times and at the end of the day Mother's will feel joy for what this day has been.
Have you ever considered a person who has no children?  What about someone who has lost a child?  Maybe even a child who has lost their Mother?  While on one hand we like to think of this day as a celebration at the same time it can be a day of great pain for someone else.  I personally feel much pain on Mother's Day.  It is a great time for me to spend with my Mother who is alive and make it her own special day and at the same time I feel great pain as I will never feel that love for my own child.
You see I had a very bad miscarriage many years ago and it caused so much damage I will not be able to have one of my own.  Sometimes I share this story with people and they often reply "There is always adoption."  Please if you are reading this  don't use this as a reply ever.  As much as you think it is a nice thing to say it can also be an insult.  Consider this.    I was the first person to realize my options as I am the one with the problem.  The fact that it is a standard comment I am reminded of my options often.  Their is still something mystical and wonderful about carrying ones on child inside her.  Going through labor and seeing a child for the first time and seeing a feature that is your own.  When people say that I can adopt it is like they are blowing off my feelings.
I feel sure that there are many people in this world that are adopted share a great and deep love with their adoptive parent.  I don't believe there are any surprise adoptions.  Usually someone has made an effort to do so.  I would never want to make it like one is deeper or better.  I am more referring to  the fact that any woman that has gone through not being able to have a child has gone through it at some point.  Some deal with it better than others and we just should never assume there is no pain.
I would think if someone were to express that it is difficult  a better reply would be "I'm sorry" and give them a hug.  The same with a person who has lost a child or lost a parent.  While today you may have reached out to your own parent and expressed love or had your children do the same for you.  Why not make the day a little more special by considering those around us who are not having the chance to express the same love.  Call them and ask them how they are?  Get them their own card and sign it from their pet.  (many people substitute pets for what they can't have)  Let them know that yes they have a special place on this earth also.
Do you have any suggestions to something special someone could do to make Mother's Day special for everyone?  Does Mother's Day make you sad sometimes too?  Can you share your story?
Zazie
Rhett fails to return but Zazie still looks for love.