My Dearest Rhett,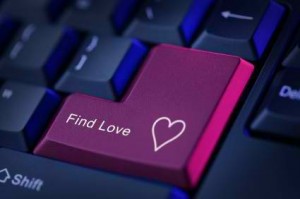 I have not heard from you in days.  Have you stopped dropping by the cafe?  I do so miss your thoughts and your male views on things.  You and I had been talking on the issues of Love.  I was hoping to explore it a little more as I have yet to find it myself.  I have discussed in past letters of how disappointed I was that the man I cared for cheated on me and hurt me badly.  I personally think now he has done me a favor.  I deserve a man that is strong enough to say NO to the advances of a lesser woman.  To offer me 100% of what I am willing to offer him.  I recently decided that the best revenge would be to find this person and achieve success in Love.  I signed up for a dating site!
Rhett, I have to tell you.  It is terrible.  I sign on with hope in my heart and sign off frustrated and puzzled.  I don't what to clump all guys in the same bucket but let me say a majority of them on these sites need serious help.  First, I want to say the only reason I signed up in the first place is because  three of my friends met their current husbands on a dating site and they are all still happily married.  I was excited as I thought it would be easy.  Let me tell you what it is truly like for me.
First I sign in and check my in box.  There are always several that have made an attempt to connect with me.  Some have pictures and some do not.  I don't even waste my time reading a thing if you do not have a picture.   I am not necessarily going on looks at this point but the pictures people decide to post say everything I need or don't need to know.  If I could reach out to these poor guys and tell them what I see I would make rules for posting pictures on dating sites.  They would read:
First off Smile!  If you know you have a camera in your face and you are going to use it to gain the attention of a lady could you at least smile?  I cannot tell you the amount of profiles men have that they do not include one picture of them smiling.  If your main picture looks like you are in a police line up you are not going to get a response from me.  I am also amused that the worse the picture the more I am sure to find in your profile to claim you are fun and laid back.  Forget it – I'm not buying it!
Don't post pictures of you smoking pot and drinking beer!  I divorced an addict so the fact that you are proud enough to post your problem I can do without.  You sitting at a table with tons of cans and bottles on the table is a definite turn off unless you are looking for a drinking buddy.
One single picture of a good looking well dressed guy – I don't believe it is your picture – How easy to find a great picture of someone else and post it.  Put several pictures up to prove you are who you say.  Don't use famous peoples pictures either because I feel sure they are not on the site looking for love.
Don't post pictures of your motorcycle, car, boat, airplane and ATV while at the same time complain that you don't like materialistic girls and women who want you for what you have.  Try having someone know you before you list out all the goods.  If I see more pictures of those than you I feel like I am competing with a car.
Do not take a picture of yourself in a mirror!  Let me say that again!  Do not take a picture of yourself in a mirror!  If you do not have a friend that can take a picture of you for you then sit there alone turn the camera around and take a profile of your face.  You can erase the bad ones.  What I am trying to say is "There is no way to take a cool picture of yourself in a mirror."  Even if you look good you end up looking dumb and friendless.
Don't add picture after picture of your children.  Even though it is good to share in your profile that you are a parent.  It is not necessary for you to place them on a dating web site.  I am trying to decide if I can date you not your children and maybe your children don't want to be placed on the site.  Dad's there are all kinds of creeps on here.  Protect your children!
If you are looking for a hunting partner maybe you should join a hunt club.  I cannot tell you the amount of hunting pics a man can place on their profile.  I don't mind the fact that some men love to hunt but putting several pictures up of you and a dead deer is not appealing.
Rhett,  I am sitting here in the cafe looking over profile after profile and I am so disappointed in my choices. By the time I come across a profile I could be interested in my stomach has already turned and I wonder what could this guy be hiding.   I hope that one day I will find love again but I have to admit this dating site stuff is crazy.
I wanted to ask you or anyone else sitting at the table today these questions.  Have you ever tried a dating site?  Did you have success?  Tell me about your experience?
Disappointed,
Zazie
Rhett returns and leaves Zazie a message