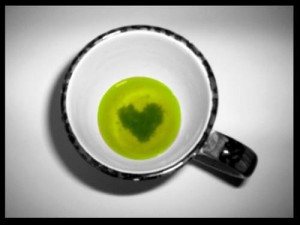 Dear Rhett,
I got you last letter about the movie!  I unfortunately am not a big fan of older movies so I did not see this one.  You described it so well that I decided to order it on Netflix and see it for myself.  Maybe I will become a fan.  Once I watch it I will be sure to let you know my review.
I was running late today so I didn't have a ton of time to write.  I stopped by to get my daily dose of green tea.  Did you know that a study was done and they found that men who drink five or more cups of green tea daily have a 50% lower chance of having advanced prostate cancer?
I thought you might want to know and it will give you a reason to continue coming back and putting the notes under the napkin holder.  I received a note from Jett and I think I was a little hard on him.  He seems to be very different from you.  Did you guys grow up together?
Anyway I must run to work.  Speaking of movies…..I have a challenge for you while you drink your five cups of tea.  I also extend it to anyone else that stops by this table.  You can post your vote in comments and be sure to put them under the napkin holder.
What are your top ten all time romantic movies?