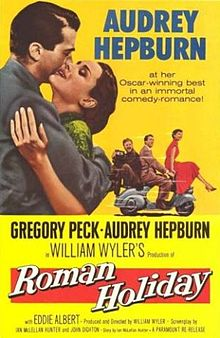 Hey Z,
Add this to the list of great love movies; William Wyler's Roman Holiday (1953), starring Audrey Hepburn and Gregory Peck. It was on TCM last night. The movie was nominated for seven Academy Awards and won three including Hepburn as Best Actress.
This is perhaps the penultimate what I call unconsummated love movie.  Unconsummated love is where two people meet and eventually fall in love, but they cannot be together for whatever reason.  In the movie Hepburn plays Princess Ann, the princess of an unspecified country.  Peck plays reporter Joe Bradley.  Seeking to escape her crushin' responsibilities, she sneaks out of her country's embassy to experience Rome on her own.  Ann, or Anya as she calls herself, meets Joe and they end up spending the day together and fallin' in love.  At the end of the day she realizes they cannot be together and tells Joe goodbye and returns to the embassy.  The next day at a news conference, which Joe attends, her comments include a coded message of her love and gratitude towards Joe.  She then departs, leaving Joe to linger for a while, contemplating what might have been.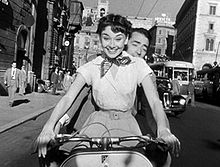 The movie is one of my favorites.  Hepburn is simply one of the most beautiful women I have ever seen.  I love the period clothing when men wore suits and hats; I wish they still did.  It is fun to watch them fall in love and you can feel the pain when they part ways.  Oh, to be in Rome with a beautiful woman.  Amore!  Big big big sigh.
Always, Rhett