Dear Zazie,  Here is today's Lovers' Almanac from Mac Tag dedicated to his muse.  Does someone tread on your dreams?  Do you hide your face in a crowd of stars?  Rhett
The Lovers' Almanac
Dear Muse,
a wish to the stars
i wish i may
someone
to share
these dreams
one here to stay
to believe
to need
more
to want
everything
this life
has to offer
stretch on
starry night
what are you now
a promise
a wish
that you will stay
© copyright 2017 mac tag/cowboy coleridge all rights reserved
desert stretches on
starry night above
unfolds… forever
mescal buzz comes on
unfurls… effortless
what am I now
voices promise
you need not say a word
you are a dream
© copyright 2016 mac tag/cowboy Coleridge all rights reserved
Today is the birthday of Achille Vianelli or Vianelly (Porto Maurizio, near Genoa 21 December 1803 – 2 April 1894 Benevento); Italian painter of landscapes with genre scenes, often in watercolor.  He was a knight of the Order of Francesco I of the Two Sicilies, and honorary professor of the Academy of Fine Arts of Naples.
Thomas Couture

Thomas Couture, self-portrait

 
Today is the birthday of Thomas Couture (Senlis, Oise 21 December 1815 – 30 March 1879 Villiers-le-Bel, Val-d'Oise); French painter and teacher.
He was interred in Père Lachaise Cemetery, Paris.
Romans during the Decadence (1847)

Daydreams (1859). The Walters Art Museum.

A Lawyer Going to Court (1860s)

The Duel After the Masked Ball (1857)
Today is the birthday of Gustave Kahn (21 December 1859, in Metz – 5 September 1936, in Paris); French Symbolist poet and art critic.  He claimed to have invented the term vers libre, or free verse; he was one of the first European exponents of the form.  His principal publications include Les Palais nomades, 1887, Domaine de fée, 1895, and Le Livre d'images, 1897.  Kahn also made a contribution to the history of the Symbolist movement with his book Symbolistes et décadents, 1902.

Verse
Les Paons
Se penchant vers les dahlias,
Des paons cabraient des rosaces lunaires,
L'assouplissement des branches vénère
Son pâle visage aux mourants dahlias.
Elle écoute au loin les brèves musiques
Nuit claire aux ramures d'accords,
Et la lassitude a bercé son corps
Au rythme odorant des pures musiques.
Les paons ont dressé la rampe ocellée
Pour la descente de ses yeux vers le tapis
De choses et de sens
Qui va vers l'horizon, parure vermiculée
De son corps alangui.
En l'âme se tapit
le flou désir molli de récits et d'encens.
A celebration of muses and unrequited love!  I so enjoy readin' about men, and women, who were able to take words and gather them together in such a way as to create somethin' timeless, which is what I aspire to create.  Today is the birthday of the woman who inspired this verse by W.B. Yeats:
"Had I the heavens' embroidered cloths,
Enwrought with golden and silver light,
The blue and the dim and the dark cloths
Of night and light and the half light,
I would spread the cloths under your feet:
But I, being poor, have only my dreams;
I have spread my dreams under your feet;
Tread softly because you tread on my dreams."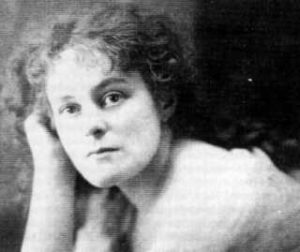 That is Maud Gonne whom Yeats was addressing.  We have written of their relationship before here at TLA.  She was born in Surrey, England, on 20 December 1865, just six months after Yeats was born in Dublin.  They first met when they were each 25 years old.  Yeats later referred to the day he met her as "when the troubling of my life began."  She was an Irish revolutionary, independent-minded, graceful, and reared in affluence.  She was tall, red-headed, and exquisitely beautiful.  In his Memoirs, Yeats wrote: "I had never thought to see in a living woman such great beauty.  It belonged to famous pictures, to poetry, to some legendary past.  A complexion like the blossom of apples, and yet face and body had the beauty of lineaments which Blake calls the highest beauty because it changes least from youth to age, and a stature so great that she seemed of a divine race."  She wore long black dresses and she kept singing birds as pets.  He asked her to marry him over and over again.  She refused, over and over again.  She once told him: "You would not be happy with me. … You make beautifully poetry out of what you call your unhappiness and you are happy in that.  Marriage would be such a dull affair.  Poets should never marry."  In a letter to him in 1911, she wrote, "Our children were your poems of which I was the father sowing the unrest & storm which made them possible & you the mother who brought them forth in suffering & in the highest beauty."  Yeats wrote about her:
When you are old and grey and full of sleep,
And nodding by the fire, take down this book,
And slowly read, and dream of the soft look
Your eyes had once, and of their shadows deep;
How many loved your moments of glad grace,
And loved your beauty with love false or true,
But one man loved the pilgrim soul in you,
And loved the sorrows of your changing face;
And bending down beside the glowing bars,
Murmur, a little sadly, how Love fled
And paced upon the mountains overhead
And hid his face amid a crowd of stars.
The Song of the Day is "Crowd of Stars" by Feeder.  I do not own the rights to this song.  No copyright infringement intended.
Mac Tag
Keep love in your heart. A life without it is like a sunless garden when the flowers are dead. – Oscar Wilde
Follow Cowboy on twitter @cowboycoleridge