Dear Zazie Lee,  Here is today's edtion of The Lovers' Almanac from Mac Tag.  Rhett
The Lovers' Almanac
Dear Muse,
many fine memories
come around
to keep company
now that the fire
has cooled enough
to make 'em bearable
there was a time
when it hurt like hell
enough to almost
make a heart stop
now, there is such
an intense focus
to git these words
as near right as possible
as nights go by,
all this time
spent in solitude
with only voices
from the past
let in to mingle
with thoughts
of used to be
well, how could
human or beast
compete with that
too much, too far
too abstract, all in all,
altogether too intense
too dependent, yes
this is makin' sense,
hooked on inspiration
when inspired
life was as it is written
but then it faded
and went out
why is that
livin' from one
inspiration to the next
until there were no more
perhaps,
it is just as easy
as readin' Ulysses
again and imaginin'
the locale is Celtic
and the season
is forever spring
© copyright 2017 mac tag/cowboy coleridge all rights reserved
Urges
I loved how her breasts
would sway and swell,
above me then settle
on my chest after she
let go, and the way
my skin felt under her
breath, so urgent, as if
her most fervent urges
were all talkin' at once,
as if they had come
cold from the darkness,
tryin' to snuggle close
to the fire. Squeezin'
my neck with her lips,
she would strum
her fingers down
my side and sound out
her passion, then raise
up, to shake her hair,
in the breeze that blew
from the mountain mornin'
through our window
Then over our heads
she would pull the bed sheet,
printed with wavy lines
like ocean waves
crestin' under puffs
of our spent urges
scented with a mix
of sex and her perfume
The only crestin' waves
near these mountains
Frédéric Bazille

Frédéric Bazille, Self-portrait, 1865–1866, oil on canvas, Art Institute of Chicago]]
Today is the birthday of Jean Frédéric Bazille (Montpellier, Hérault, Languedoc-Roussillon; December 6, 1841 – November 28, 1870 Beaune-la-Rolande); French Impressionist painter.  Many of Bazille's major works are examples of figure painting in which Bazille placed the subject figure within a landscape painted en plein air.
Frédéric Bazille joined a Zouave regiment in August 1870, a month after the outbreak of the Franco-Prussian War.  On November 28 of that year, he was with his unit at the Battle of Beaune-la-Rolande when, his officer having been injured, he took command and led an assault on the German position.  He was hit twice in the failed attack and died on the battlefield at the age of twenty eight.  His father travelled to the battlefield a few days later to take his body back for burial at Montpellier over a week later.
Self Portrait, unknown date

The Pink Dress (View of Castelnau-le-Lez, Hérault), 1864, oil on canvas, Musée d'Orsay

Studio in the Rue de Furstenberg, 1865, Musée Fabre

Portrait of Renoir, 1867, oil on canvas, Musée d'Orsay

Le Petit Jardinier (The Little Gardener), c. 1866-67, oil on canvas Museum of Fine Arts, Houston

Nature morte avec du poisson, Still life with fish, c. 1866-67.

Family Reunion, c. 1867, Musée d'Orsay

Nature morte au héron, 1867

View of the Village, 1868, Musée Fabre

Fisherman with a Net, 1868

Portrait of Paul Verlaine, 1868, Dallas Museum of Art

Portrait of Edmond Maître, 1869

La Toilette, 1870, Musée Fabre
Ira Gershwin

Background information

 

 

 

 
Today is the birthday of Ira Gershwin (New York City; December 6, 1896 – August 17, 1983 Beverly Hills); American lyricist who collaborated with his younger brother, composer George Gershwin, to create some of the most memorable songs of the 20th century.  With George he wrote more than a dozen Broadway shows, featuring songs such as "I Got Rhythm", "Embraceable You", "The Man I Love", and "Someone to Watch Over Me".  He was also responsible, along with DuBose Heyward, for the libretto to George's opera Porgy and Bess.  His mastery of songwriting continued after the early death of George.  He wrote additional hit songs with composers Jerome Kern ("Long Ago (and Far Away)"), Kurt Weill and Harold Arlen.  His critically acclaimed book Lyrics on Several Occasions of 1959, an amalgam of autobiography and annotated anthology, is an important source for studying the art of the lyricist in the golden age of American popular song.
Lyrics
You've made my life so glamorous,
You can't blame me for feeling amorous.
'S wonderful, 's marvellous
That you should care for me.

"'S Wonderful", Funny Face, Act I (1927).
I got rhythm,
I got music,
I got my man
Who could ask for anything more?

"I Got Rhythm", Girl Crazy, Act I (1930).
Summertime and the livin' is easy,
Fish are jumpin', and the cotton is high.
Oh yo' daddy's rich, and yo' ma is good lookin',
So hush, little baby, don' yo' cry.

"Summertime", Porgy and Bess, Act I, sc. i (1935). Lyric written in collaboration with DuBose Heyward.
It ain't necessarily so,
It ain't necessarily so.
De t'ings dat yo' li'ble
To read in de Bible,
It ain't necessarily so.

"It Ain't Necessarily So", Porgy and Bess, Act II, sc. ii.
Nice work if you can get it,
And you can get it if you try.

"Nice Work If You Can Get It", A Damsel in Distress (1937).
You like potato and I like po-tah-to,
You like tomato and I like to-mah-to;
Potato, po-tah-to, tomato, to-mah-to –
Let's call the whole thing off!

"Let's Call the Whole Thing Off", Shall We Dance (1937).
They all laughed at Christopher Columbus
When he said the world was round;
They all laughed when Edison recorded sound.

"They All Laughed", Shall We Dance.
The way you wear your hat,
The way you sip your tea,
The mem'ry of all that –
No, no! They can't take that away from me!

"They Can't Take That Away from Me", Shall We Dance.
In time the Rockies may crumble,
Gibraltar may tumble,
They're only made of clay,
But our love is here to stay.

"Our Love Is Here to Stay", The Goldwyn Follies (1938).
Poor Jenny, bright as a penny!
Her equal would be hard to find.
She lost one dad and mother,
A sister and a brother–
But she would make up her mind.

"The Saga of Jenny", Lady in the Dark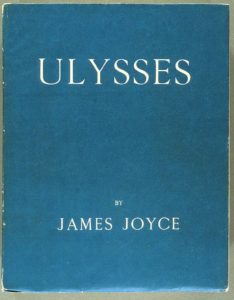 On this day in 1933 – U.S. federal judge John M. Woolsey rules that James Joyce's novel Ulysses is not obscene.  Ulysses is a modernist novel by Irish writer James Joyce.  It was first serialised in parts in the American journal The Little Review from March 1918 to December 1920, and then published in its entirety by Sylvia Beach in February 1922, in Paris.  In my opinion, it is one of the most important works of modernist literature.  Ulysses chronicles the meandering appointments and encounters of Leopold Bloom in Dublin in the course of an ordinary day, 16 June 1904.  Ulysses is the Latinised name of Odysseus, the hero of Homer's epic poem Odyssey, and the novel establishes a series of parallels between the poem and the novel, with structural correspondences between the characters and experiences of Leopold Bloom and Odysseus, Molly Bloom and Penelope, and Stephen Dedalus and Telemachus, in addition to events and themes of the early twentieth century context of modernism, Dublin, and Ireland's relationship to Britain.  Ulysses is approximately 265,000 words in length and is divided into eighteen episodes.  Since publication, the book has attracted controversy and scrutiny, including the afore mentioned obscenity trial, due to its stream-of-consciousness technique, careful structuring, and experimental prose full of puns, parodies, and allusions, as well as its rich characterisation and broad humour.  Joyce fans worldwide now celebrate 16 June as Bloomsday.
Judge Woolsey ruled that Ulysses was not pornographic.  Acknowledging the "astonishing success" of Joyce's use of the stream of consciousness technique, the judge stated that the novel was serious and that its author was sincere and honest in showing how the minds of his characters operate and what they were thinking.  Some of their thoughts, the judge said, were expressed in "old Saxon words" familiar to readers, and:
[i]n respect of the recurrent emergence of the theme of sex in the minds of [Joyce's] characters, it must always be remembered that his locale was Celtic and his season Spring.
May all of our locales be Celtic and our seasons forever Spring.