Dear Zazie,
Today, rememberin' this picture and the note you left me a ways back…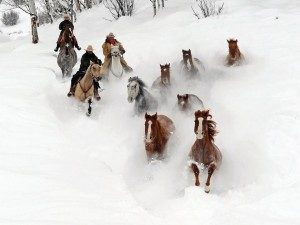 Dearest Rhett,
When I saw this picture I instantly thought of you.  A true cowboy at heart.  I really believe that no matter where you go once a cowboy always a cowboy.  Happy Holidays Rhett.
You will forever be in my heart as my true Cowboy!
Z
As you will always be the blonde hair and blue eyes in my heart.  R
Here is today's Lovers' Almanac from Mac Tag dedicated to his muse.  Rhett
The Lovers' Almanac
Dear Muse,
Yeats said sex and death
for me, beauty and sorrow
still another way to say
love or the lack thereof
how many are experts
on both, especially
the lack thereof
wish we were not
but here we are
gatherin' and sharin'
our expertise
that we wish
we had not
at least not to some degree
would beauty mean as much
without her sister sorrow
an awakenin' from a dream
when realization dawns
that you have been fightin'
for somethin' that is not
what you thought
somethin' cowardly said,
and you ain't no coward
not when it comes
to your heart
you cannot keep fightin'
for someone who makes
dedications and big claims
only to git sad and give up
you believe
and that still means somethin'
sure you made mistakes too
but you fix 'em by fightin'
for your heart
so you look in the mirror
and you are still standin' there
no one can take your strength
to dust yourself off and keep ridin'
and never losin' hope because you
will not allow them to take it
never bitter, sad or sarcastic
that is a power you refuse anyone
ride proud with head high,
with bruised heart,
but with no regrets
all that could de done
was done, bold moves,
courageous actions,
big words, you gave it all
you left nothin' in the chute
and you know this…
you are better off
for havin' tried
and you know
that all it takes
is the right place
and the right time
when everything aligns
© copyright 2017 mac tag/cowboy coleridge all rights reserved
Feel like I am torn between two lovers.  A feelin' Rhett and Jett are not unfamiliar with.  i am torn between you and the Dark Muse.  Seems like some days, The Lover's Almanac is more about lost love than love and more appropriately should be called The Un-lovers' Almanac.  But we are here to pay homage to all kinds of love; true love, lost love, unrequited love, sad love, shadow love, random love and abandoned love.  And our quest has not changed; the search for beauty and mirrors of our sorrow.  So, goin' forward, since the Dark Muse is here to stay, we will have special additions of TLA called,  Pale Love, Pale Rider.  Here is the inaugural edition of the journal of pale love,  Pale Love, Pale Rider.  Lock up your wives and daughters, for the Pale Rider comes and heartbreak follows behind him.
Pale Love, Pale Rider
Dear Dark Muse,
This one came at me from several directions.  Start with the Four Horseman of the Apocalypse from Revelations, add Katherine Anne Porter's short story, Pale Horse, Pale Rider, add Clint Eastwood's movie Pale Rider, and finally The Heavy Horses' song, "Pale Rider".  I threw all of that into a saddle bag and shook it up and voila!  As easy as fallin' out of the saddle or fallin' in and out of love.  Keepin' up my end of the bargain, dear Dark Muse.  Please keep up your end.  Ladies beware, here comes……
Pale Love, Pale Rider
In the depths of a stormy night
Suddenly roused from restless sleep
Swept by a silent chilly wind,
He felt a hand on his shoulder
And he heard a sensuous voice,
With an echo as old as time,
Call to him and say; Come and see!
He tried to speak, but he could not
He tried to resist, but could not
He moved as if he were floatin',
And he followed Her where She led;
Out of the house, into the yard,
Down the caliche road, over
The cattle guard, past the Blowout
They stopped in a quiet pasture
Beside a corral with four gates
She turned and opened the first gate
There before him was a white horse
Ridden by a pretty woman
Wearin' a long flowin' white robe
Horse and rider walked towards him
Then she reached down and touched his head
And said; 'Pledge yourself in return
For eternal lucidity'
Then She opened the second gate
Another horse, red, galloped out
Ridden by a red-haired woman
Who was carryin' a bottle
And she said; 'Drink the blood red wine
Harden your heart for what awaits:
Pale shades of love, abandoned love,
And random love and shadow love'
Then She unbolted the third gate
There before him was a black horse
Its rider, a dark-haired beauty,
Reined up smartly right beside him
The rider reached and touched his eyes
And said; 'Now you have vision
To see into what lies beyond
Believe in the unforgiven'
Then She swung open the fourth gate
He looked and there was a pale horse
Its rider, blonde haired and grey eyed,
Strikingly pretty and naked,
Slipped off the horse and approached him
She took his hand and said; 'Take me
Take me, consummate your promise
Come, choose what must be chosen'
Desire pulsed throughout his body
The hunger, the need and the want
Overtook him and he gave in
Allowing her to pull him down
And inside her, and she urged him
On and on, faster and harder
Incessant friction hot and wet
A crescendo of pain/pleasure
Souls and seed now intermingled
Low manic laughter from somewhere
Eyes that were once grey, now pitch black
In them, somethin', a reflection
Pain, so much pain, ever after
Visions that cannot be voided
A new truth, must accept as is
Howlin' in anguish in the dark…
Awake in their bed, sore and bruised
So careful not to disturb her
Up, dressed; boots, cowboy hat and coat
Down to the barn, open the door
There in the first stall; the pale horse
Blanket, saddle, cinch tight, gear checked
Mounted on the pale horse, ridin'
Wanderin', wild in his sorrow
Searchin' for what cannot be found
Reflections of his misery
Days given to wranglin' regrets
Nights given to darkest desires
Know this; Foreshadowed is forewarned
And forewarned is fully forearmed
When the Pale Rider, this way comes,
Heartbreak follows close behind him
© 2013 mac tag/Cowboy Coleridge All rights reserved
The Song of the Day is "Pale Rider" by The Heavy Horses.
Marc-Antoine Charpentier
It was on this day in 1693, that the opera Médée, a tragédie mise en musique in five acts and a prologue by Marc-Antoine Charpentier to a French libretto by Thomas Corneille, premiered at the Théâtre du Palais-Royal in Paris. Médée is the only opera Charpentier wrote for the Académie Royale de Musique. The opera was well reviewed by contemporary critics and commentators.
Synopsis
Prologue
A celebration of the glory of King Louis XIV.
Act 1
Jason and Médée (Medea), pursued by the people of Thessaly because of Médée's crimes, have sought refuge in Corinth. Médée is worried that Jason is growing distant from her. Jason claims he needs to win the good graces of the princess Créuse so her doting father, King Créon, will protect them. He suggests that Médée should give Créuse a beautiful robe as a present. After Médée leaves, Jason confides that he is really in love with Créuse but fears Médée's reaction. Créuse is due to be married to Oronte, prince of Argos, who now arrives in Corinth with his army. However, King Créon tells Jason that he would prefer him as a son-in-law. Jason leads the combined Corinthian and Argive army to victory against the Thessalians.
Act 2
Créon tells Médée he will not hand her over to her enemies but she must leave Corinth. Jason and his children by her will stay. Médée protests that she only committed those crimes out of love for Jason, but Créon replies that the Corinthian people want her to leave. Médée hands over her children to Créuse. Créuse confesses her love to Jason.
Act 3
Oronte promises Médée refuge in Argos if she can arrange a marriage between him and Créuse. She tells him that the only reason she is being banished is so Jason can be free to marry Créuse. They must combine forces to prevent this happening. Jason pleads with Médée that he is only acting in the best interests of their children. Left alone, Médée resorts to witchcraft and summons demons from the underworld who bring her a poisoned robe for Créuse.
Act 4
Jason admires the beauty of Créuse's new robe. Oronte finally realises that what Médée had said is true: Créuse will marry Jason, not him. Médée vows that Créuse will never be Jason's bride. Créon arrives and is angered that Médée has not yet left Corinth. He orders his guards to seize her but she conjures up spirits of beautiful women who seduce the guards away. Then she uses her magic powers to drive the king insane.
Act 5
Médée rejoices at her success and plans to take her vengeance to an extreme by murdering her own children by Jason. Créuse begs her to spare Corinth, even pledging to renounce her wedding to Jason if she does so. News arrives of Créon's madness and death. Médée touches Créuse's poisoned robe with her wand and it bursts into flame. Créuse dies in Jason's arms. Jason swears revenge on Médée, who now appears in a flying chariot pulled by dragons to announce she has stabbed their children. She leaves as the palace of Corinth bursts into flames.
Rainer Maria Rilke

Rilke in 1900, aged 24

---
Today is the birthday of Ranier Maria Rilke, Bohemian-Austrian poet and novelist. Born René Karl Wilhelm Johann Josef Maria Rilke in Prague, Bohemia, Austria-Hungary in 1875.  In my opinion, he is one of the most lyrically intense German-language poets. I would describe his work as inherently mystical. His writings include one novel, several collections of poetry and several volumes of correspondence in which he invokes haunting images that focus on the difficulty of communion with the ineffable in an age of disbelief, solitude and profound anxiety. These existential themes tend to position him as a transitional figure between the traditional and the modernist writers.
Rilke travelled extensively throughout Europe (including Russia, Spain, Germany, France and Italy), and in his later years settled in Switzerland.  These settings proved to be key to the genesis and inspiration for many of his poems. While Rilke is most known for his contributions to German literature, over 400 poems were originally written in French and dedicated to the canton of Valais in Switzerland. Among English-language readers, his best-known works include the poetry collections Duino Elegies (Duineser Elegien) and Sonnets to Orpheus (Die Sonette an Orpheus), the semi-autobiographical novel The Notebooks of Malte Laurids Brigge (Die Aufzeichnungen des Malte Laurids Brigge), and a collection of ten letters that was published after his death under the title Letters to a Young Poet (Briefe an einen jungen Dichter). In the later 20th century, his work found new audiences through use frequent quotations in television programs, books and motion pictures.
Mac Tag
Follow us on twitter @cowboycoleridge