Dear Zazie,  Here is today's Lover's Almanac.  I asked Mac Tag if I could take one more day at the rein's of TLA.  He graciously agreed.  You can follow us on twitter @cowboycoleridge.  Does someone watch over you?  Do you watch over someone?  Rhett
The Lover's Almanac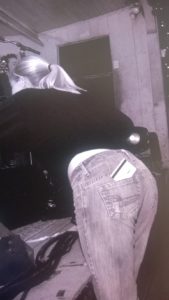 somewhere I go often
one of my favorite places,
that ol' dance hall
waltzed & two-stepped
myself into a sweat
& drank a lot
of Shiner
I fell in love there,
or as near
as I ever came
I remember
everything
about our first night there
the way she looked,
the way if felt
to waltz across
the floor with her,
the words she whispered
in my ear
then later…
the way she moved her hips
her pale lips, quiverin'
half-open,
aspirin' to somethin'
neither of us
had ever known
© copyright 2017 mac tag/cowboy Coleridge all rights reserved
I asked Mac Tag if I could have another turn at TLA to address a note that Zazie left here.  The note says that men are dogs.  Well, we certainly can be and sadly, we can be much worse.  But consider this.  A man wrote today's Lyrics of the Day, his brother wrote the music and a man sang the song and a man is sendin' this edition of TLA out especially for you Zazie.  So maybe we are not all bad.  The Lyrics of the Day by George Gershwin:
Someone To Watch Over Me
There's a saying old says that love is blind
Still were often told, seek and ye shall find
So I'm going to seek a certain girl I've had in mind
Looking everywhere, haven't found her yet
She's the big affair I cannot forget
Only one I ever think of with regret
I'd like to add her initial to my monogram
Tell me, where is the shepherd for this lost lamb?
There's a somebody I'm longing to see
I hope that she turns out to be
Someone who'll watch over me
I'm a little lamb who's lost in the wood
I know I could always be good
Someone who'll watch over me
Although she may not be the one some
Guys think of as pretty
To my heart she carries the key
Won't you tell her please to put on some speed
Follow my lead, oh, how I need
Someone to watch over me
The Song of the Day is Willie Nelson's version of "Someone to Watch over Me" by George and Ira Gershwin.
Grazia Deledda
Today is the birthday of Grazia Maria Cosima Damiana Deledda (Nuoro; 28 September 1871 – 15 August 1936 Rome); Italian writer who received the Nobel Prize for Literature in 1926 "for her idealistically inspired writings which with plastic clarity picture the life on her native island [i.e. Sardinia] and with depth and sympathy deal with human problems in general".  She was the first Italian woman to receive this honor.
L'ospite
Suonò l'Ave.
Margherita si fece rapidamente il segno della croce e mosse le labbra.
– Angelus… Angelus…
Non ricordava altro quella sera, perché ella ripeté la dolce parola almeno dieci volte. Poi le sue labbra pallide si fermarono del tutto, semiaperte, quasi ad aspirare il vento che recava, vibrando, i rintocchi dell'Ave.
Mac Tag