Dear Zazie,  Here is today's Lover's Almanac from Mac Tag dedicated to his muse.  Have you reached for love and come away with thorns?  Whether you have brown eyes, green eyes or blue eyes, are you broken hearted?  Rhett
The Lover's Almanac
Dear Muse,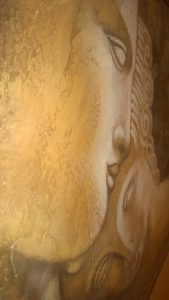 you sleep
stretched out
on our bed
the windows are open
& the mountain breeze
rustles gently through
candles burn
in every nook & corner
with a few gentle taps
you wake surprised
curious to catch
your first impression
I call your name
you start up,
look through me
and around,
& hang your head
a look of sadness
passes in your eyes
a sinkin' of the heart
© copyright 2017 mac tag/cowboy Coleridge all rights reserved
The Blue-Eyed Girl
Sometimes it is alright to be wrong,
Sometimes it is okay to just let it go
They like to gossip
About her, often,
But they do not know her
No one knows her truth
Sometimes, she gets caught
Up in their rumours
But she refuses
To follow their rules
She tries to laugh about it
But she cannot help feelin'
Like they are stealin' somethin'
Away from her in pieces
She does not need anyone
To tell her right from wrong
She wants to sing her own song
From now on, she walks alone
Needin' no one's permission
She has learned that happiness
Lies in followin' her own song
For what it is worth;
The Blue-Eyed Man
Feels the pain
Of the Blue-Eyed Girl
© copyright 2012 mac tag/cowboy Coleridge all rights reserved
Today we have a story of love found and lost from my friend Jett.
Jett received the followin' letter from his friend Adele, who also happens to be a friend of Zazie:
Ok! I did it!  Call it lust, love or the meeting of two sole mates.  On Saturday night, I went out with a guy I used to work with.  We drink a box of wine and end up on the roof.  We just talk most all night and yes he gave me a kiss.  Tuesday he left his wife (it was a dead situation anyway), last night he moved in!  Wow!  Did you expect that from me?   I cannot explain what happened other than we are both crazy about each other.  We just reconnected and decided we had suppressed the feelings we had for long enough.  I equate this whole thing to two people jumping out of an airplane.  We don't yet know if we will land on our feet or our face!  Right now all we can do is enjoy the ride.  Jett I have been so lonely for so long just to be held again is well worth the insanity of it.  The only part that stresses me is the fact that either one of us could crush the others heart.  He has made major external moves and I have made equal internal moves.  Just last week I could not imagine sharing my closet with anyone.  Tonight I pick up boxes to pack up half my closet.  For some weird reason I am not afraid.  What do you think….. If you really felt that you found your soul mate would you jump in or hang on at a distance to be sure?
Jett told her he agreed with their leap of faith.  Life is too short and you will never get a rose unless you reach for it.  Yes, you may end up with a handful of thorns, but the reward is worth the risk.  Protect yourself as best you can and when you fancy, take some fancy chances.
Then Adele texts Zazie with a picture update on her romance or rather the apparent end of it.  Click here to see the picture.  In part it says; "You lied to me.  You said you loved me.  I trusted you.  I was fine before you came.  I'm broken hearted.  I cried."  Jett wishes he could reach out and hug Adele and he wishes he could stomp a mud hole in this guy, which trust me, he could.
For the Poem of the Day, Jett suggested, "Blue-Eyed Ann" by the Scottish poet Tobias Smollett, who died on this day in 1771 in Livorno, Italy.  This goes out to Adele from Jett.
Blue-Eyed Ann
When the rough North forgets to howl,
And Ocean's billows cease to roll;
When Libyan sands are bound in frost,
And cold to Nova Zembla's lost!
When heavenly bodies cease to move,
My blue-eyed Ann I'll cease to love.
No more shall flowers the meads adorn;
Nor sweetness deck the rosy thorn;
Nor swelling buds proclaim the spring;
Nor parching heats the dogstar bring;
Nor laughing lilies paint the grove,
When blue-eyed Ann I cease to love.
No more shall joy in hope be found;
Nor pleasures dance their frolic round;
Nor Love's light god inhabit earth;
Nor beauty give to passion birth;
Nor heat to summer sunshine cleave,
When blue-eyed Annie I deceive.
When rolling seasons cease to change,
Inconstancy forgets to range;
When lavish May no more shall bloom,
Nor gardens yield a rich perfume;
When Nature from her sphere shall start,
I'll tear my Annie from my heart.
The Song of the Day is "Blue Eyed Girl" by Ida Jensush.  Again, this goes out to Adele from Jett.
Émile Augier

Augier by Antoine Samuel Adam-Salomon, circa 1870s

---
Today is the birthday of Guillaume Victor Émile Augier (Valence, Drôme; 17 September 1820 – 25 October 1889 Croissy-sur-Seine); French dramatist.
Verse

 
L'Aventurière (1848)
L'amour chez les vieillards a d'étranges racines,
Et trouve, comme un lierre aux fentes des ruines,
Dans ces cœurs ravagés par le temps et les maux,
Cent brèches où pousser ses tenaces rameaux.

Act I., Scene V. (translation by Fabrice).
From strangest roots love in old men doth grow;
Like ivy on a ruin it doth show,
And in these hearts laid waste by grief and time,
By myriad clefts its clinging branches climb.
William Carlos Williams

William Carlos Williams passport photograph,1921
Today is the birthday of William Carlos Williams (Rutherford, New Jersey; September 17, 1883 – March 4, 1963 Rutherford); poet closely associated with modernism and imagism.  He is among the group of four major American poets born in the twelve-year period following 1874, including Robert Frost, born in 1874; Wallace Stevens, born in 1879; and H.D. (Hilda Doolittle), born in 1886.  His work has an affinity with painting, in which he had a lifelong interest.
In addition to his writing, Williams had a long career as a physician practicing both pediatrics and general medicine.  He was affiliated with what was then known as Passaic General Hospital in Passaic, New Jersey, where he served as the hospital's chief of pediatrics from 1924 until his death.  The hospital, which is now known as St. Mary's General Hospital, paid tribute to Williams with a memorial plaque that states "we walk the wards that Williams walked".
Verse

 
Marriage (1916)
So different, this man
And this woman:
A stream flowing
In a field.
Al Que Quiere! (1917)
The earth cracks and
is shriveled up;
the wind moans piteously;
the sky goes out
if you should fail.
Why do I write today?
The beauty of
the terrible faces
of our nonentities
stirs me to it:
"Apology"
I lie here thinking of you:—the stain of love
is upon the world!
It's a strange courage
you give me ancient star:
Shine alone in the sunrise
toward which you lend no part!
Brother!
— if we were rich
we'd stick our chests out
and hold our heads high!
It is dreams that have destroyed us.There is no more pride
in horses or in rein holding.We sit hunched together brooding
our fate.Well —
all things turn bitter in the end
whether you choose the right or
the left way
and —
dreams are not a bad thing.

"Libertad! Igualidad! Fraternidad!"
Who shall say I am not
the happy genius of my household?
Sour Grapes (1921)
Among the rain
and lights
I saw the figure 5
in gold
on a red
firetruck
moving
tense
unheeded
to gong clangs
siren howls
and wheels rumbling
through the dark city.
Old age is
a flight of small
cheeping birds
skimming
bare trees
above a snow glaze.
Gaining and failing
they are buffeted
by a dark wind —
But what?
On harsh weedstalks
the flock has rested —
the snow
is covered
with broken
seed husks
and the wind tempered
with a shrill
piping of plenty.

"To Awaken an Old Lady", originally publised in The Dial (August 1920)
Collected Poems 1921-1931 (1934)
"He's come out of the man
and he's let
the man go —
the liar
Dead

his eyes

rolled up out of
the light — a mockery

which

love cannot touch —just bury it
and hide its face
for shame.
An Early Martyr and Other Poems (1935)
Among
of
greenstiff
old
brightbroken
branch
comewhite
sweet
Mayagain

"The Locust Tree in Flower"
Complete Collected Poems (1938)
These
are the desolate, dark weeks
when nature in its barrenness
equals the stupidity of man.The year plunges into night
and the heart plunges
lower than night
Collected Later Poems (1950)
Not now. Love itself a flower
with roots in a parched ground.
Empty pockets make empty heads.
Cure it if you can but
do not believe that we can live
today in the country
for the country will bring us
no peace.

"Raleigh Was Right" (1940)
The Desert Music and Other Poems (1954)
I think
of the poetry
of René Char
and all he must have seen
and suffered
that has brought him
to speak only of
sedgy rivers,
of daffodils and tulips
whose roots they water,
even to the free-flowing river
that laves the rootlets
of those sweet-scented flowers
that people the
milky
way

"To a Dog Injured in the Street"
The cries of a dying dog
are to be blotted out
as best I can.
René Char
you are a poet who believes
in the power of beauty
to right all wrongs.
I believe it also.
With invention and courage
we shall surpass
the pitiful dumb beasts,
let all men believe it,
as you have taught me also
to believe it.

"To a Dog Injured in the Street"
Journey to Love (1955)
Asphodel, That Greeny Flower
Of asphodel, that greeny flower,
like a buttercup

upon its branching stem —

save that's green and wooden —

I come, my sweet,

to sing to you.

We lived long together,

a life filled,

if you will,

with flowers. So that

I was cheered

when I first came to know

that there were flowers also

in hell.

Today

I'm filled with the fading memory of those flowers

that we both loved,

even to this poor

colorless thing —

I saw it

when I was a child —

little prized among the living

but the dead see,

asking among themselves:

What do I remember

that was shaped

as this thing is shaped?

while our eyes fill

with tears.

Of love, abiding love

it will be telling

though too weak a wash of crimson

colors it

to make it wholly credible.

There is something

something urgent

I have to say to you

and you alone

but it must wait

while I drink in

the joy of your approach,

perhaps for the last time.

And so

with fear in my heart

I drag it out

and keep on talking

for I dare not stop.
time to recall them

before I shall speak out.

Give me time,

time.

When I was a boy

I kept a book

to which, from time

to time,

I added pressed flowers

until, after a time,

I had a good collection.

The asphodel,

forebodingly,

among them.

I bring you,

reawakened,

a memory of those flowers.

They were sweet

when I pressed them

and retained

something of their sweetness

a long time.

It is a curious odor,

a moral odor,

that brings me

near to you.
I thought,

held out its arms to me.

A thousand tropics

in an apple blossom.

The generous earth itself

gave us lief.

The whole world

became my garden!

But the sea

which no one tends

is also a garden

when the sun strikes it

and the waves

are wakened.

I have seen it

and so have you

when it puts all flowers

to shame.
that I have gone to hell

for your love

but often

found myself there

in your pursuit.

I do not like it

and wanted to be

in heaven. Hear me out.

Do not turn away.
I have learned much in my life

from books

and out of them

about love.

Death

is not the end of it.
Lightning

plays about the edges of the clouds.

The sky to the north

is placid,

blue in the afterglow

as the storm piles up.

It is a flower

that will soon reach

the apex of its bloom.
of flowers

it is to recall

that at one time

we were young.

All women are not Helen,

I know that,

but have Helen in their hearts.

My sweet,

you have it also, therefore

I love you

and could not love you otherwise.
or fades! it is not

the end of the world.

Love is something else,

or so I thought it,

a garden which expands,

though I knew you as a woman

and never thought otherwise,

until the whole sea

has been taken up

and all its gardens.

It was the love of love,

the love that swallows up all else,

a grateful love,

a love of nature, of people,

of animals,

a love engendering

gentleness and goodness

that moved me

and that I saw in you.
to sing to you!

My heart rouses

thinking to bring you news

of something

that concerns you

and concerns many men. Look at

what passes for the new.

You will not find it there but in

despised poems.
    It is difficult
to get the news from poems
yet men die miserably every day

for lack

of what is found there.
Hank Williams

Williams in 1951

 

 

 

 

 
Today is the birthday of Hiram King "Hank" Williams, (Mount Olive, Alabama; September 17, 1923 – January 1, 1953 Oak Hill, West Virginia); American singer-songwriter and musician.  In my opinion, one of the most significant and influential American singers and songwriters of the 20th century, Williams recorded 35 singles (five released posthumously) that reached the Top 10 of the Billboard Country & Western Best Sellers chart, including 11 that ranked number one (three posthumously).  Among the hits he wrote were "Your Cheatin' Heart", "Hey, Good Lookin'", "Jambalaya (On the Bayou)" and "I'm So Lonesome I Could Cry".
On December 15, 1944, Williams married Audrey Sheppard.  It was her second marriage and his first.  Their son, Randall Hank Williams, who would achieve fame in his own right as Hank Williams, Jr., was born on May 26, 1949.  The marriage, always turbulent, rapidly disintegrated.  The couple divorced on May 29, 1952.
A relationship with a woman named Bobbie Jett resulted in a daughter, Jett Williams, who was born five days after Williams' death.
On October 18, 1952, Williams and Billie Jean Jones Eshlimar were married in Minden, Louisiana by a justice of the peace.  It was the second marriage for both (both being divorced with children).  After Williams' death, a judge ruled that the wedding was not legal because Jones Eshlimar's divorce had not become final until eleven days after she married Williams.  Williams' first wife, Audrey, and his mother, Lillie Williams, were the driving forces behind having the marriage declared invalid and pursued the matter for years.
Several years of back pain, alcoholism, and prescription drug abuse severely damaged Williams' health.  Williams died at the age of 29, from heart failure exacerbated by pills and alcohol.  Despite his short life, Williams has had a major influence on 20th-century popular music, especially country music.  The songs he wrote and recorded have been covered by numerous artists and have been hits in various genres.  He has been inducted into multiple music halls of fame, such as the Country Music Hall of Fame (1961), the Songwriters Hall of Fame (1970), and the Rock and Roll Hall of Fame (1987).
Lyrics
You wore out a brand new trunk,
packin' and unpackin your junk.

"You're gonna change (or I'm gonna leave)" (1949)

No matter how I struggle and strive,
I'll never get out of this world alive.

"I'll Never Get Out Of This World Alive" (1952)
We'll put aside a little time to fix a flat or 2,
my tires and tubes are doing fine but the air is showing through

"Settin' the Woods on Fire" (1952)
Mac Tag
It is difficult to get the news from poems, yet men die miserably every day for lack of what is found there. – Simone de Beauvoir
I am in love, hence free to live by heart, to ad lib as I caress. – Vera Pavlova
We are blind and live our blind lives out in blindness. Poets are damned but they are not blind, they see with the eyes of angels. – William Carlos Williams