Dear Zazie,  Here is today's Lover's Almanac from Mac Tag dedicated to his muse.  Follow us on twitter @cowboycoleridge.  Are you dedicated to the one?  Is someone dedicated to you?  Rhett
The Lover's Almanac
Dear Muse,
play, play on for me
I shall remain here
all evenin' and listen
the first hesitatin' notes
murmured faintly
in the quiet air
of golden twilight
in it, the sighin'
of the wind
& heartrendin' plaints
I listen, lyin' here
eyes half shut,
lookin' out
upon the sun
dyin' over the plains
a somewhat melancholy feelin'
that my past life & it's places
are recedin' in the rearview
at this moment of nightfall
I feel at home
© copyright 2017 mac tag/cowboy Coleridge all rights reserved
Today is a good day here at TLA.  We have two love stories to share with you.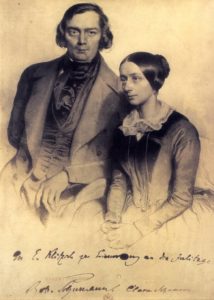 On this day in 1840 composer Robert Schumann married German pianist Clara Wieck.  In the year 1840, the immensely talented Clara was eagerly awaitin' the eve of her 21st birthday, when she would be free to legally marry the 30-year old Schumann. The couple had hoped to wed years earlier, but the match was bitterly opposed by Clara's father.  Clara and Robert kept in touch by letters, which were sometimes intercepted by Papa Wieck.  Schumann, for his part, buried himself in his music, composin' furiously until Clara would come of age.
Early in 1840 Clara wrote, "Dear Robert: I love you so much it hurts my heart. Tell me what you're writing. I would so love to know, oh please, please. A quartet, an overture — even perhaps a symphony? Might it by any chance be — a wedding present?"  When the marriage finally took place, just as she had guessed, Robert presented Clara with a musical weddin' present: not a quartet, overture, or symphony, but a song cycle, "Myrten," (Myrtle) consisting of 26 songs, which were published as his Opus 25.  The openin' song, entitled "Widmung" (Dedication), is a settin' of a Friedrich Rückert poem which contains this refrain: "You are my heart and soul, my rapture and pain, you are the world I live in and the heaven I aspire to, my good angel, my better self."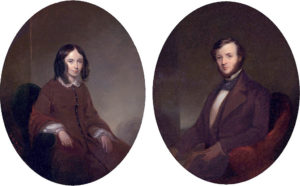 And on this day in 1846, Elizabeth Barrett and Robert Browning eloped.  They had been courtin' in secret for a year and a half, through the mail, unbeknownst to her father.  It had begun when Browning wrote Barrett a gushin' fan letter, sayin', "I love your verses with all my heart, dear Miss Barrett … and I love you too."  She wrote a long letter in return, thankin' him and askin' him for ways she might improve her writin'. Barrett was an invalid, and was reliant on morphine, and it was some months before Browning convinced her to meet face to face.  Barrett's father did not like Browning, and viewed him as a fortune hunter.
On the day of the weddin', Browning posted another letter to Barrett, which read, "Words can never tell you, however, — form them, transform them anyway, — how perfectly dear you are to me — perfectly dear to my heart and soul. I look back, and in every one point, every word and gesture, every letter, every silence — you have been entirely perfect to me — I would not change one word, one look."  They were married at St. Marylebone Parish Church, and Barrett returned to her father's house, where she stayed for one more week before she ran off to Italy with Browning.  She never saw her father again.  After the weddin', she presented Browning with a collection of poems she had written durin' their courtship.  It was published in 1850 as Sonnets from the Portuguese.
Tough choice for the poem of the day between Rückert and the Brownings, but I think we will go with Rückert because of the tie-in with Schumann's song.  The poem of the day originally an unnamed poem from a collection of poems called Liebesfrühling (Dawn of Love):
Dedication
You are my soul, you are my heart,
you are my rapture, you are my pain,
you are my world in which I live,
and the heaven I aspire to
you are my grave, into which
I always put all my grief.
You are rest, you are peace,
you are sent to me from heaven.
That you love me makes me more worthy,
Your glance has transfigured me,
you have me loving beyond myself,
my good spirit, my better self!
For the Song of the Day, we found two versions of Schumann's "Widmung"; one featurin' the incomparable Jessye Norman and an instrumental version featurin' Evgeny Kissin.   
Two examples of dedication.  Dedication to a true love.  Dedication I tried to give.  Dedication I wish I could still give to you.
Carl Eytel

Eytel sketching – during his trip with George Wharton James

 

 
Today is the birthday of Carl Eytel (Maichingen, Böblingen, Kingdom of Württemberg; September 12, 1862 – September 17, 1925 Banning, California); German American artist who built his reputation for paintings and drawings of desert subjects in the American Southwest.  Immigrating to the United States in 1885.  Wanting to be a cowboy, he worked as a cowhand in the San Joaquin Valley and he eventually settled in Palm Springs in 1903.  Living in small cabins he built himself, Palm Springs remained his home.  Eytel often walked on his travels, covering 400 miles in the Colorado Desert on foot.  On one of his travels he was nearly lynched as a horse thief and in 1918, during a trip to northern Arizona, he was threatened with lynching as a German spy.  With an extensive knowledge of the Sonoran Desert, Eytel traveled with author George Wharton James as he wrote the successful Wonders of the Colorado Desert, and contributed over 300 drawings to the 1908 work.  While he enjoyed success as an artist, he lived as an ascetic and eventually died in poverty.  Eytel's most important work, Desert Near Palm Springs, hangs in the History Room of the California State Library.
Mac Tag