Dear Zazie,  Here is today's Lover's Almanac from Mac Tag dedicated to his muse.  Follow us on twitter @cowboycoleridge.  Are your nights without someone?  Rhett
The Lover's Almanac
Dear Muse,
"Your vulnerability
is freaking me out.
Is it real?"
it is the only thing
have left that is
"Remember when you told me
when you were young
and you met someone new,
you thought you were flying,
but you were really falling?"
"and didn't you tell me
there were times
when you knew
you were going to fall,
but you tried to fly
because the falling
felt like flying?"
oh, I see where this is goin'…
"Well come on!
Fly you big dummy!"
© copyright 2017 mac tag/cowboy Coleridge all rights reserved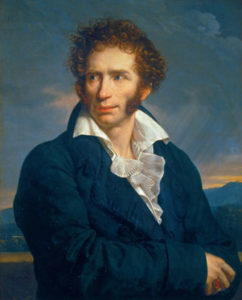 On this day in 1827, Italian poet Ugo Foscolo died.  He wrote a poem, "Alla Sera" (In the Evening or Nightfall) that served as inspiration for the Poem of the Day:
Nights Without You
Perhaps because you understood
The silence that I felt
I cherished when you came to me
And calmed me
Whether under summer clouds
And warm winds
Or when winter sent restless
And long shadows
You always came, desired by me
And the secret pathways of my heart
You gently held
You made me wander with my thoughts
On paths that kept me
From the eternal void
And at long last, the pain and anger
That roared within me slept
Now the nights are without you
And the torment does not sleep
© copyright 2012 mac tag/Cowboy Coleridge all rights reserved
The Song of the Day is "Nights are Forever Without You" England Dan and John Ford Coley.
Marianne von Werefkin
Self portrait, circa 1910
Today is the birthday of Marianne von Werefkin (Tula, Russian Empire; 10 September [O.S. 29 August] 1860, Tula, Russia– 6 February 1938, Ascona, Switzerland), born Marianna Wladimirowna Werewkina; Russian-German-Swiss Expressionist painter.
In 1892 she met Alexej von Jawlensky, who desired to be her protégé, and in 1896 she, Jawlensky, and their servant moved to Munich.  For the sake of Jawlensky's painting, Werefkin interrupted her painting for almost ten years.  She initiated a Salon in Munich which soon became a center of lively artistic exchange.
At the outbreak of the First World War, Werefkin and Jawlensky immigrated to Switzerland, near Geneva.  They later moved to Zurich.  By 1918, they had separated, and Werefkin moved alone to Ascona, on Lago Maggiore where she painted many colorful, landscapes in an expressionist style.
Werefkin died in Ascona on 6 February 1938.  She was buried in the Russian graveyard in Ascona.
Today is the birthday of Hilda "H.D." Doolittle (Bethlehem, Pennsylvania; September 10, 1886 – September 27, 1961); American poet, novelist, and memoirist known for her association with the early 20th century avant-garde Imagist group of poets such as Ezra Pound and Richard Aldington.  She published under the pen name of H.D.
H.D. married Aldington in 1913.  After he enlisted in the army, the couple became estranged, and he reportedly took a mistress in 1917.  H.D. became involved in a close but platonic relationship with D. H. Lawrence.  She moved into a cottage in Cornwall with the composer Cecil Gray, a friend of Lawrence and became pregnant with Gray's child, however, by the time she realised she was expecting, the relationship had cooled and Gray had returned to live in London.  Close to the end of the war, H.D. met the wealthy English novelist Bryher (Annie Winifred Ellerman).  They lived together until 1946, and although both took numerous other partners, Bryher remained her lover for the rest of H.D.'s life.
Verse
 So you may say,
Greek flower; Greek ecstasy
reclaims forever
one who died
following intricate song's
lost measure.
Let Zeus Record
For one moment seek
a lesser beauty
and a lesser grace,
but you will find
no peace in the end
save in her presence.
Be indigestible, hard, ungiving.
so that, living within,
you beget, self-out-of-self,
selfless,
that pearl-of-great-price.
The reason is:
rats leave the sinking ship
but we…
we…
didn't leave,
so the ship
didn't sink,
and that's madness,
Lear's song
that's Touchstone's forest jest,
that's swan of Avon logic.
We don't have to know,
only to be:
let go the jumble of worn words,
reason and vanity.
What does a woman see in another woman that she doesn't see in a man: tenderness. – Sylvia Plath
Let me live, love, and say it well in good sentences. – Sylvia Plath
A poet, when he is growing old, will ask himself if he cannot keep his mask and his vision without new bitterness, new disappointment. – W.B. Yeats