Dear Zazie,
Here is today's Lover's Almanac.
to understand fully
to endure and overcome
journals, verse…
the picture of struggle
painted in full depth
perhaps glad hereafter…
now the height of ambition
to read, to think, to write and study
leave for the bereaved, each moanin'
whatever disappointment there may be
thus it is; no point in tryin'
stark and spare, as unforgivin'
as a barren landscape
the recurrin' ideal…
that of simplicity
to write with clarity
Words that stir
© copyright Mac tag 2016 all rights reserved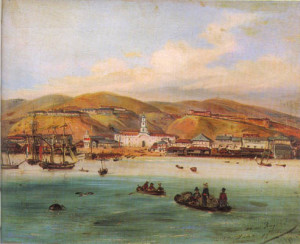 Today is the birthday of Johann Moritz Rugendas (Augsburg 29 March 1802 – 29 May 1858 Weilheim an der Teck), a German painter, famous for his works depicting landscapes and ethnographic subjects in several countries in the Americas, in the first half of the 19th century.  Rugendas is also the subject of César Aira's 2000 novel, An Episode in the Life of a Landscape Painter.  Here is his painting; La Aduana Del Centro De Valparaiso
Today is the birthday of Ronald Stuart Thomas (Cardiff 29 March 1913 – 25 September 2000 Pentrefelin), published as R. S. Thomas, a Welsh poet and Anglican priest who was noted for his Welsh nationalism, intense spirituality, and deep dislike of the anglicisation of Wales.  Here are some of my favorite verses from Thomas:
You have to imagine
a waiting that is not impatient
because it is timeless.
"The Echoes Return Slow" in The Echoes Return Slow (1988)
"Sunlight's a thing that needs a window
Before it enter a dark room.
Windows don't happen."
So two old poets,
Hunched at their beer in the low haze
Of an inn parlour, while the talk ran
Noisily by them, glib with prose.
He arose, pacing the floor
Strewn with books, his mind big with the poem
Soon to be born, his nerves tense to endure
The long torture of delayed birth.
I have been all men known to history,
Wondering at the world and at time passing;
I have seen evil, and the light blessing
Innocent love under a spring sky.
I have known exile and a wild passion
Of longing changing to a cold ache.
King, beggar and fool, I have been all by turns,
Knowing the body's sweetness, the mind's treason;
Taliesin still, I show you a new world, risen,
Stubborn with beauty, out of the heart's need.
It is too late to start
For destinations not of the heart.
I must stay here with my hurt.
The darkness
is the deepening shadow
of your presence; the silence a
process in the metabolism
of the being of love.
What was the shell doing,
on the shore? An ear endlessly
drinking?
What? Sound? Silence?
Which came first?
Listen.