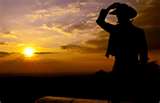 Dear Z,
I am sittin' here readin' your note and I almost spit out my dark roast coffee, black.  He asked you what!?  Seriously!?  Wow, sounds like either he does not trust you or he is worried about a serious credit problem; or both.  Either way, run away and never return!  Where do you find these guys!?  I know what you need; you need a cowboy, a real cowboy, to ride along and sweep you off your feet and put you out of your datin' misery.  We would sure miss your humourous/revealing posts though, so in the meantime keep us posted on the antics of these guys you meet.
Have you ever met a real cowboy?  Not a wanna be or the urban kind or the weekend kind, but a real, born on a ranch, grew up surrounded by big skies and ropes and saddles and cattle and horses, cowboy.    Well, they are men of honour and they know how to treat a woman.  They still believe in chivalry and manners.  They still believe in doin' what is right because it is right.  They still believe in romance and watchin' the sun rise and set.  They believe the greatest gift they can give are their words in a poem or song.  I am proud to say that I am a born and bred third generation cowboy.
As for your idea of credit checks and background checks, sadly, I guess you are right.  But here is my rule of thumb for all you cowboys and cowgirls:  You should reveal any issues in your past to the one you are with before you ever get to the point where you use the "L" word.  Before your ever tell someone you love them, you had better reveal anything bad that you did or that was done to you.  Tell 'em straight up.  Survivin' somethin' bad shapes your character and becomes part of you.  Tell the truth and give the other person a chance to know the real you.  If love is meant to be, they will love that part of you as well.  I have two revealing experiences with two different stunning women to tell,  but later.
Rhett
Jett comes back in the picture….